July Monthly Market Update
Scottsdale Real Estate Market Forecast 2023-2024

Scottsdale, AZ—a real estate haven that continues to captivate homebuyers and investors alike. Boasting abundant sunshine, a vibrant cultural scene, and a luxurious lifestyle with top-notch amenities, Scottsdale has become the ultimate destination for those seeking an extraordinary quality of life.
As of May 2023, the average home value in Scottsdale, AZ, stands at $764,073, experiencing a slight dip of 0.4% over the past year. Fear not, as this temporary fluctuation merely hints at an advantageous buying opportunity for savvy investors. In this thriving market, homes typically go under contract within a mere 40 days, reflecting the strong demand and quick turnaround. Moreover, with a median sale-to-list ratio of 0.974, you can expect homes to be snagged slightly below their list price, creating excellent value for potential buyers.
Delving further into the data, we find that February 2023 witnessed 9.8% of homes selling above their asking price, while a remarkable 73.5% sold below their initial listing. This dynamic landscape offers a wide range of options, empowering you to find the perfect property that suits your preferences and budget. Whether you're aiming for a shrewd investment or a dream home, the Scottsdale market ensures flexibility and favorable opportunities.
Anticipating the future, the Scottsdale real estate market forecast fills us with optimism, showcasing a landscape that remains robust and stable. While the market forecast is influenced in part by the broader metropolitan statistical area (MSA) it belongs to—Phoenix, AZ—we can confidently affirm that Scottsdale's unique appeal will sustain its growth trajectory.
According to Zillow, the average home value in Phoenix, the MSA encompassing Scottsdale, currently sits at $404,818, having experienced a 5.2% decrease in the past year. However, don't let this recent trend cloud your vision. The MSA is forecasted to bounce back with a remarkable 1.5% increase in home values by March 31, 2024, signaling a promising resurgence in the horizon.
Reasons for Scottsdale's Stable Real Estate Market
Scottsdale's Real Estate Market: High Demand, Limited Supply
Scottsdale's real estate market remains stable and robust due to limited land availability for new construction. Surrounded by mountains and preserves, the city faces challenges in expanding housing developments. This scarcity of housing supply helps keep home values and demand high.
Moreover, Scottsdale's popularity among retirees, second-home buyers, and young professionals adds to the demand for housing. The thriving job market, especially in healthcare, technology, and tourism, attracts new residents.
In conclusion, the Scottsdale real estate market forecast for 2023-2024 is optimistic and expected to remain strong. Despite the broader decline in home values in the Phoenix metropolitan area, Scottsdale's limited land availability and diverse demand contribute to its stable market. With its attractive lifestyle and amenities, Scottsdale continues to be a sought-after destination for homebuyers.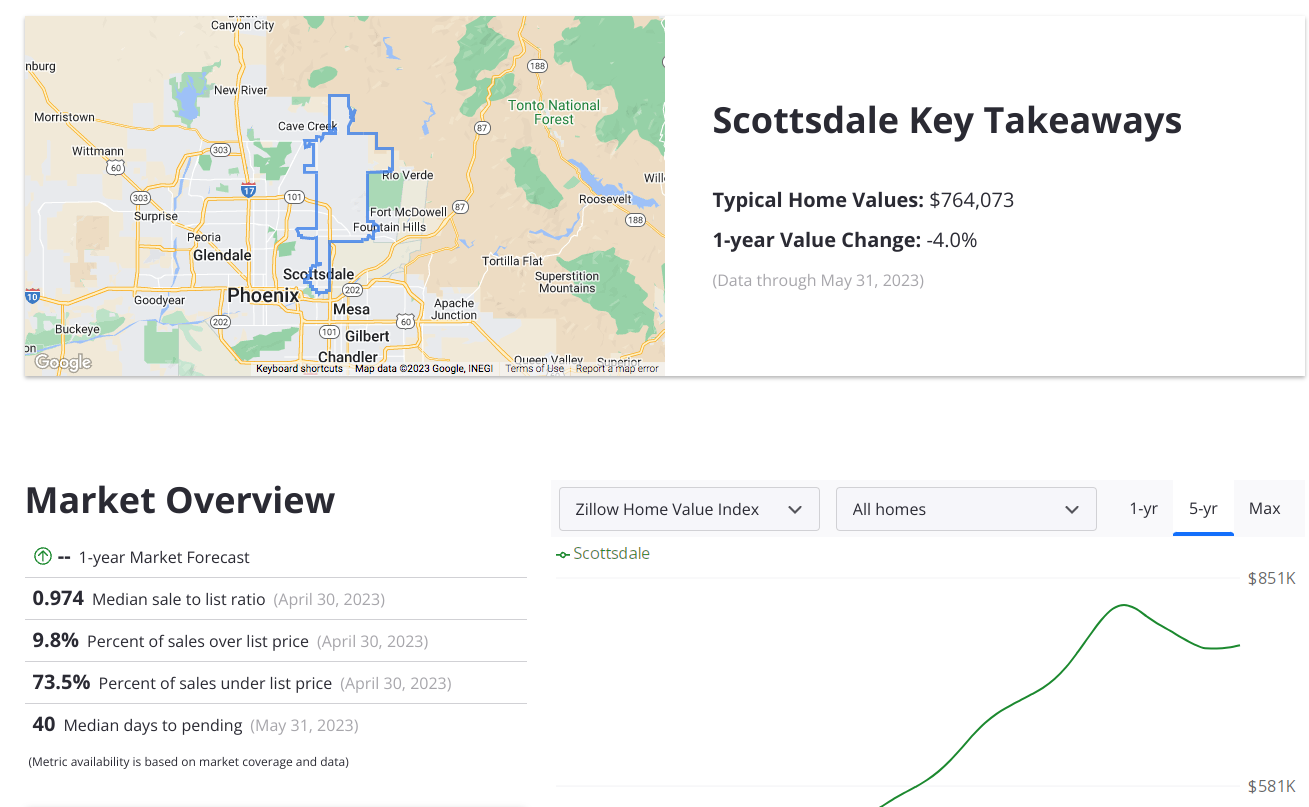 July Market Update for Scottsdale


Homes Sold
94.9%
Sale-to-List Price


$1,099,833
Average Sales Price
73%
Percent of sales under list price
Curious about how your home's value has changed?
We will gladly prepare a Comparative Market Analysis for you so that you are armed with the most current information.
Get Your Report
The information contained in this article was pulled from third-party sites mentioned under references. Although the information is believed to be reliable, The Griffin Team makes no representations, warranties, or guarantees, either express or implied, as to whether the information presented is accurate, reliable, or current. All information presented should be independently verified through the references given below. As a general policy, Tiffany Griffin, The Griffin Team makes no claims or assertions about the future housing market conditions across the US.